IV cannulas, one-way, pen-type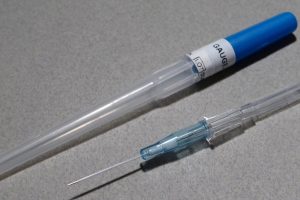 JCM MED Intravenous Cannulas / Catheters allow the introduction or withdrawal of fluids from the human circulatory system. The short flexible and kink-resistant catheter is introduced into a blood vessel over a hollow introducer needle.
Pen-type IV cannulas offer the advantage of potentially fully enclosing the used needle for safe disposal. They are also fitted with a hydrophobic filter. Optionnaly, the unique design of the needle allows for previsualization of flashback.

See Instructions for Use.
| | |
| --- | --- |
| Pen-like series | 1-way IV cannula with hydrophobic filter and hard shell packaging. |
| Gauges | 12-26 G |
| Packing | sterile rigid blister |
| Sterilisation | ETO |
| Class | IIa |