IV cannula / catheter with port & wings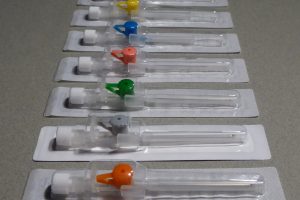 JCM MED Intravenous Cannulas / Catheters allow the introduction or withdrawal of fluids from the human circulatory system. The short flexible and kink-resistant catheter is introduced into a blood vessel over a hollow introducer needle.
These IV cannulas are fitted with an injection port that allows the supplementation of a drug into the cannula itself by a syringe without a needle, and prevents back-flow. The color-coded cap can be standard or « flip top » (snapcap) which allows a rapid one-finger closure. The flexible wings provide easy and proper fixation with fixation tapes.
| | |
| --- | --- |
| IVCV series | IV cannula / catheter with port & wings. |
| Gauges | 12-26 G |
| Packing | sterile rigid blister |
| Sterilisation | ETO |
| Class | IIa |