IV cannulas / catheters without port without wings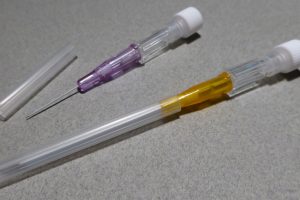 JCM MED Intravenous Cannulas / Catheters allow the introduction or withdrawal of fluids from the human circulatory system. The short flexible and kink-resistant catheter is introduced into a blood vessel over a hollow introducer needle.

Also called « one-way » IV cannulas, these cannulas may be supplied, in their sophiticated version, with hydrophobic filters to avoid blood spillage during cannulation. The filter allows easy escape of air and provides rapid flow of blood for easy flashback. The special feature Dent Needle ensures the venipuncture consuming less time.
| | |
| --- | --- |
| IVCP series | IV cannula / catheter without port, without wings. |
| Gauges | 12-26 G |
| Packing | sterile rigid blister |
| Sterilisation | ETO |
| Class | IIa |