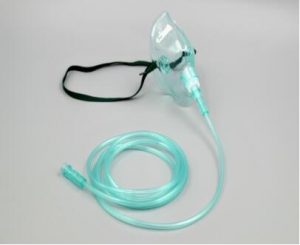 SUNRISE JCM provides oxygen masks that cover the nose and mouth (oral nasal masks). They can be supplied sterile or non-sterile if required.
Oxygen masks provide a method to transfer breathing oxygen gas from a storage tank to the lungs.
Medical plastic oxygen masks are used primarily by medical care providers for oxygen therapy because they are disposable and so reduce cleaning costs and infection risks. Mask design can determine accuracy of oxygen delivered with many various medical situations requiring treatment with oxygen.
Oxygen is naturally occurring in room air at 21% and higher percentages are often essential in medical treatment. Oxygen in these higher percentages is classified as a drug with too much oxygen being potentially harmful to a patient's health, resulting in oxygen dependence over time, and in extreme circumstances patient blindness.
For these reasons oxygen therapy is closely monitored. Masks are light in weight and attached using an elasticated headband or ear loops.
They are transparent for allowing the face to be visible for patient assessment by healthcare providers.